On 22 November 2022, the Austro-Arab Chamber of Commerce (AACC) held its 31st General Assembly Meeting together with the 32nd Meeting of the Board of Directors, which took place in-person at Palais Eschenbach in Vienna and simultaneously online via Zoom.
The meeting gathered 60 participants (both in-person & online), including Arab ambassadors and diplomatic corps in Austria, high-level representatives, and AACC board and regular members. Welcome remarks and speeches were delivered by AACC Founder and Arab President H.E. KR Nabil Kuzbari, AACC Austrian President H.E. Sen. Dr. Richard Schenz, Secretary-General of the Union of Arab Chambers (UAC) H.E. Dr. Khaled Hanafi, and H.E. Mr. Mohammed Elmolla, Current Chair of the Arab Ambassadors Council in Vienna and Ambassador of the Arab Republic of Egypt to Austria. The event was also marked by the participation of AACC Honorary President Dr. Herbert Stepic.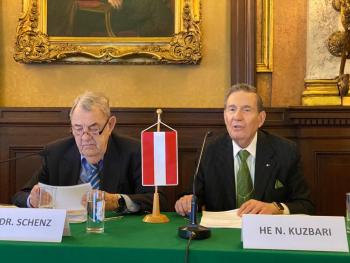 H.E. KR President Nabil Kuzbari commended the tireless efforts of AACC Secretary-General and team and praised the Chamber's initiatives, which are expected to contribute a great deal to overcoming the obstacles the Chamber has been facing. Pres. Kuzbari added that the Chamber's situation reflects Europe's current economic situation.
AACC Secretary-General Mr. Mouddar Khouja presented his annual report at this meeting, whereby he emphasised the financial repercussions which the chamber has been grappling with caused by the outbreak of the COVID-19 pandemic and the current situation across the EU borders. SG Khouja also elaborated on measures to tackle these difficulties, primarily through the amendment of legalisation & certification processes, fee adjustment for legalisation, certification & translation services, and the introduction of a success fee for facilitating business in Arab countries. Complementing SG Khouja's overview, AACC Treasurer Mr. Wolfgang Kaburek presented his annual financial report pertaining to the Chamber's financial situation.
This meeting also witnessed the election of new members of AACC Board of Directors. As such, CEO of Borealis AG Mr. Thomas Gangl and Mr. Philipp Hammer-Purgstall, Managing Director Inosolve Consulting Service & Engineering GesmbH, were elected from the Austrian side, whereas Mr. Ali Almalki, designated Assistant Secretary General for Economic Affairs at the League of Arab States, and Mr. Imad Anis Hammad, representative of the Federation of the Syrian Chambers of Commerce, were elected from the Arab side.
Following the meeting, a panel entitled "New Business Horizons & Innovations in the United Arab Emirates" took place. An extended report on this panel will follow soon and will be available on AACC's webpage: https://aacc.at/pages/reports.html
Categories: Reports