Medaia GmbH:
is located in Graz and develops and distributes the SkinScreener solutions. With these solutions, you can capture an image of a suspicious skin lesion and assess its risk for skin cancer. These devices are designed for laypersons, providing an easy-to-understand three-color code: green for low risk, amber for medium risk, and red for high risk.
The algorithm, trained with thousands of images, was verified in a study at the Medical University of Graz from 2018 to 2019. It has an accuracy of 95% and can detect 98% of all relevant skin cancer types on skin at Fitzpatrick types I to IV. In Europe, about 20% of the population will get skin cancer at least once in their lifetime. The increase in outdoor activities and exposure to high UV radiation will likely double the number of skin cancer cases in the next 10 years.
It's commonly known that one might wait months for an appointment with a dermatologist. While SkinScreener can provide an initial assessment of your suspicious skin lesion, it does not replace a dermatologist.
Dr. Michael Tripolt (photo credit: Werner Stieber)
The MVP of SkinScreener was developed by Dr. Michael Tripolt, MPH, a dermatologist and surgeon, and DI Dr. Michael Koppitz, a general practitioner and biomedical engineer from 2015 to 2018. After the successful completion of the study, they founded Medaia GmbH. In 2021, Mr. Albin Skasa, currently the CEO, joined the company. Medaia has currently 11 employees and is certified according to ISO 13485 as well as MDR compliant. The two SkinScreener products, SkinScreener App and SkinScreener API, are class IIa medical devices in the EU.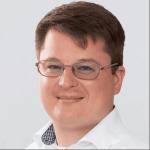 CEO Mr. Albin Skasa (photo credit: Mr. Skasa)
SkinScreener had a quarter of a million downloads and analyzed more than 700,000 images so far. Insurance companies, as well as businesses with occupational health initiatives for outdoor workers, are among their customers. Furthermore, the company operates in eight Western European countries and is actively seeking new market opportunities worldwide.
Contact:
medaia GmbH
Am Eisernen Tor 5/1/12
8010 Graz


Tel: +43 660 861 57 50 (CEO Mr. Albin Skasa)
E-mail:office@medaia.at
Website: skinscreener.com
Categories: Member News