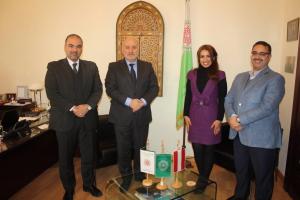 On 26 February 2018, the Secretary General of the Austro-Arab Chamber of Commerce (AACC) Eng. Mouddar KHOUJA received Dr. Ahmed BADR, Executive Director of the Regional Center for Renewable Energy and Energy Efficiency (RECREEE), together with Eng. Ashraf KRAIDY, Planning Director and Ms. Noha GAMAL EL DIN, Members States Relations and Operations Manager of RECREEE for coordinative talks in Vienna.
RECREEE informed the AACC that they were awarded by the European Commission to be the Animator of the Renewable Energy and Energy Efficiency Platform under the Union of the Mediterranean, which in they are preparing to launch an "Euro-Mediterranean High Level Policy Dialogue" between Europe and the Arab region to stimulate the investments in the sustainable energy field. The focus of the dialogue is on "Fostering Climate Change Mitigation Measures for the Deployment of Renewable Energy".
In this context, RECREEE approached the AACC to discuss a potential role for AACC and the different Arab-Joint chambers in Europe in this dialogue, as key players in the investment and commerce markets drivers between the north and the south.
RECREEE asked the AACC to be main partner and the bridge to the Arab-Joint Chambers in Europe for the "Euro-Mediterranean High Level Policy Dialogue", and AACC agreed on that.
RECREEE and partners will organise four events in the near future: two in EU countries (Austria, The Netherlands) and two in Arab countries (Egypt, Tunisia). During the talks with AACC, RECREEE agreed to launch the Dialogue together with the already planned "10th Arab Austrian Economic Forum" of the AACC, which is to be held on 1st October 2018 at the Vienna City Hall in cooperation with the City of Vienna, UNIDO and other cooperation partners.
Categories: Reports