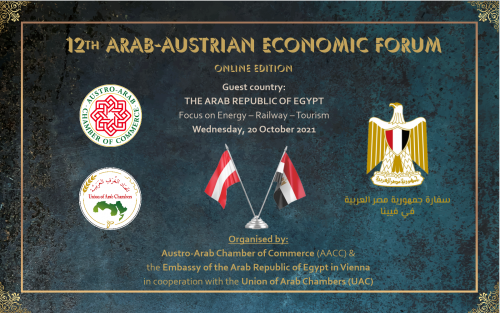 AACC is pleased to invite you to its 12th Arab-Austrian Economic Forum - Online Edition, taking place online via Zoom Events on Wednesday, 20 October 2021, from 10:00-16:00 Vienna time (CEST), organised by AACC in cooperation with the distinguished Embassy of the Arab Republic of Egypt in Vienna and the Union of Arab Chambers (UAC).


This year's forum will feature the Arab Republic of Egypt as the guest country and will focus on energy, railway and tourism, while presenting an insight into the country's economic landscape and development and highlighting the most prominent investment the country has to offer.

Featuring high-level representatives on ministerial and official levels, the Forum seeks to further discuss scopes of cooperation and potential partnerships for Austrian and international businesspersons.

In this regard, AACC is honoured to announce the confirmed partipation of H.E. Dr. Margarete Schramböck, Federal Minister for Digital and Economic Affairs of the Republic of Austria, H.E. Dr. Hala Elsaid, Minister of Planning & Economic Development of the Arab Republic of Egypt, and H.E. Dr. Khaled El-Enany, Minister of Tourism and Antiquities of the Arab Republic of Egypt.

Please save the date in your calendar, detailled programme and registration link will be provided soon.
Categories: Arab-Austrian-Economic-Forum, Announcements